Summer 2018 Marine Biology Educational Program
Be a Marine Biologist!
Summer is the time to be active outdoors and we provide activities including canoeing, swimming, nature walks, and exploring the salt marshes and rocky intertidal zones at Hammonasset State Park.
Our program participants have the opportunity to spend a week with real marine biologists! We have an child to instructor ratio of 2 to 1, which means participants not only form bonds with their peers, but also with the counselors. This allows our future scientists to perform scientific experiments that include looking at the abundance of the different species present in numerous habitats. Working in small groups also provides a more personalized setting allowing for fun AND learning.
Each day of our program begins with launching canoes in Clinton Harbor! We then take tours up the Hammonasset River and through the surrounding salt marshes. At high tide we go further into the marsh to compare and contrast marsh and harbor animals. At low tide we visit the mudflats adjacent to our marina, which is always a favorite!
Under the supervision of our biologists, everyone collects creatures such as crabs and fish! We complete this field collection in areas including rivers, salt marshes, intertidal zones, beaches and mudflats. Animals caught throughout the week are brought back to the lab to be kept in each group's own saltwater aquarium for identification and observation.
For summer's hottest days we also have an in-ground swimming pool to cool off in!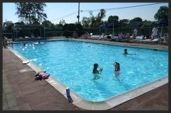 Discover Long Island Sound
Hammonasset State Park
Rocky Intertidal
Participants learn about the ecology, habitats and interactions of Long Island Sound organisms found within this area.
We bring scientific equipment along so our campers learn how to do field work just like marine biologists.
Salt Marsh
Critical issues concerning Long Island Sound and its inhabitants are addressed here.
This area is one of our most popular because it is where our participants meet the mud! Children AND biologists have been known to lose shoes in this area!
We also bring our large seine net to see what's in the water...while we try to wash away the mud.
Beach
The beach isn't just for swimming!
The dunes, wrack line and the first foot of water is home to many plants and animals. Everyone collects these animals to bring back to the lab to put in their aquarium!
Sessions:
1: June 25-29
2: July 2-6*
3: July 9-13
4: July 16-20
5: July 23-27
6: July 30- Aug 3
7: Aug 6-10
8: Aug 13-17
9: Aug 20- 24
*There will be no camp on July 4th in observance of the holiday, please see price adjustment for this week
Price:

$400
*July 2-6: $325
Time:

9:00-3:00
Ages: 9-15
For further information contact us directly at [email protected] or (860) 669-8681 ext. 19
Program Director: Lauren Engstrom
There's more!
Additional Activities:
- Canoeing to Hammonasset State Park & surrounding areas
- On-site heated pool
- Maintaining a saltwater aquarium where campers keep the animals they caught for the week
- Completing experiments in the field
- Instruction and use of scientific instruments
- Water quality sampling
- Keeping a personal scientific journal
Why choose our Educational Program?
- Introduction to:
- Marine Biology
- Scientific Method
- Species Identification
- Hands on experience with marine animals
- Working one on one with real marine biologists
- Team building skills
- Friendships that last a lifetime
---